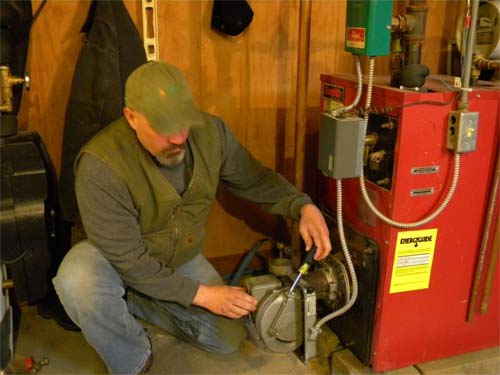 It was 10 degrees for much of the morning here in Portland today, which means that unless you enjoy a chilly home, your heating system got a workout last night.  Great!  That's what it's for!  But what if your system isn't performing up to expectations, or – even worse – not performing at all?
Just like that, you need to call a heating contractor.  Here in Maine, there are a bunch of us contractors—you see us every day, out in our trucks or parked in your neighbor's driveway.  With so many choices, how do you know which contractor will be able to best address your needs?
A heating system upgrade, overhaul or repair can be one of the most significant financial investments you'll make on your home, so it pays to take a little bit of extra time to figure out how to get the best value – both long and short term – from your heating contractor.  Here, we've put together some guidelines to help.
Don't assume all heating contractors are the same!  Contractors vary in size from one-person home businesses to large operations with many locations.  You have a right to know quite a bit of information about any contractor you work with, and a good contractor will be happy to answer any and all questions you have.  Here are a few good questions to get you started:
How long have you been in business?
In what city and state are you licensed?
Where is your business office located?
Are you a member of any local trade associations?
Do you have any customers in my neighborhood from whom I can get a referral?
Do you offer 24 hour emergency service?
What are the minimal certifications your technicians must have?
What is your policy if I am not satisfied with the work your company does?
Do your technicians wear uniforms or carry ID badges?
Almost any other question you can think of that will help you in the vetting process of your heating contractor is appropriate to ask; an honest company with integrity will answer all of your questions willingly and openly.
Not only should you be asking questions, but your contractor should be asking questions right back.  There will be a lot of information that your contractor will need to know before putting together an accurate quote for you, so expect to answer as many questions as you're asking, or more!
Here are a few other things to keep in mind when you're shopping for a new heating contractor:
Educate Yourself!  A new heating system can be a significant investment.  It's incredibly important to know what your options are and how they'll affect you in the long term.   There are so many great resources online to find out more about your heating options.  We recommend that you visit Efficiency Maine's web site before doing anything else to learn more about potential rebates and creating an energy efficient home.  You can also use their contractor database to find companies in your area who offer the solution in which you are interested.
Here at True North, we recommend switching to a sustainable alternative to fossil fuel – like wood pellets or heat pumps – rather than investing in an oil or propane system.  Why?  Well, while a sustainable system may have a higher up front cost, the fuel cost savings are so significant that the smarter system will pay for itself in less than 10 years,  while an oil or propane system is still dependent on upward trending fuel costs.  In other words, a sustainable system has a higher return on investment.
Don't assume that because a contractor is a registered vendor of a name brand product, they are automatically a good choice.  It's true, good contractors will offer the best products, many of which will carry a brand name you're familiar with.  Often, however, the manufacturers will not play a significant role in vetting their distributors beyond certain basic guidelines.  So it's up to you to make sure you're getting a company that is right for your needs beyond the product itself.
Never trust a quote without a site visit!  In this day and age, it's tempting to shop from home, surfing the Internet to find the best deal for you, or even to do business over the phone – but if a contractor offers you a quote without first visiting your home, read the fine print before you sign.  Typically, installing a new boiler or upgrading your current system is a complex job that requires intimate knowledge of your home's insulation and layout, so it's important to ensure that the contractor inspects your heating system first.
Don't be misled by a contractor who only replaces equipment!  Unless you're a master heating technician yourself, chances are you'll need a contractor if your boiler or heat pump fails.  If a failure occurs, it will probably be during periods of severe cold – a time when contractors may already be booked up servicing clients for whom they've installed equipment.  So make sure that your contractor doesn't just install, but supports and services the products it installs.
Take your time! Don't rush to make decisions, or try to decide when you're tired, stressed out or distracted.  Contractors are used to a bit of a longer decision timeline and want you to feel confident about your choice – so take the time you need to discuss things with your family, educate yourself and ask questions.
Don't give in to a high-pressure sales pitch!  A reputable contractor will want to make sure that you are getting the heating solution that is right for you and your home, and serves your needs the best way possible.  If you feel that you are being pressured to buy from a contractor, don't be afraid to look elsewhere.
And, last but not least:
Remember that your new heating system is an investment in your home's value.  The trend among home buyers is a demand for energy efficient homes, and installing a heating system that heats economically and efficiently, with a smaller carbon footprint, is a trend that is only going to become more mainstream as oil and gas prices continue to rise.  When you install a wood pellet boiler or heat pumps in Maine you offer potential buyers the opportunity to purchase a home with significantly lower heating costs and the additional value of having a lighter carbon footprint.
Want to know more?  Have a look at Kedel and then check out True North's other sustainable solutions.  Not the solution you're looking for?  Then head on over to Efficiency Maine to find out more about finding the contractor who's right for you.